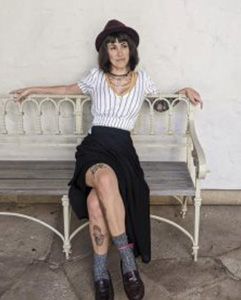 Bethany Georges
Biography: Hi, my name is Bethany! I'm a tattoo apprentice, and have been tattooing for one year! I live in Kailua in a big house with best friends and roommates, I have 4 pet birds (3 of them were hand raised rescues) and if I'm not at the shop, I'm usually drawing / painting and hanging out with them.
I find inspiration for my artwork in textural dark illustrative black work and lithography, neo traditional colors and blending with art nouveau influence, and fine line minimalist styles. I love sweet illustrative styles and am inspired by animals, flowers, mushrooms, and plants of the world, as well as human anatomy, faces, whimsical occult themes, dream state, the subconscious mind, and cottage core cuteness.
I've been an acrylic painter for 14 years and have murals featured in PowWow Kakaako, as well as throughout shopping centers around the island and local businesses. I'm excited to integrate my painting and design knowledge into the world of tattooing and explore with you what is possible in your next piece.
Instagram: @ladybird_tattoos