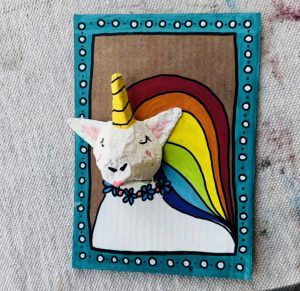 Kids Art With Miss Nadia
The Collective is very excited to host Nadia Richards and child-students (ages 5 and up) who sign up for her art class.
This make-and-take class keeps us young, and fulfills our pledge to be all about art.
How can your child be part of this experience?
A $15 fee covers art instruction & supplies. Free time for parents at the Lilikoi Kitchen — Priceless!
Targeted class size is 5-6 children, and the smile sizes are huge! The classes consistently fill up, so we recommend contacting Nadia using the e-form below, in order to declare your intent to join us.
See Nadia on Instagram @octopus_underground_art, and see her "UFO" cards at the shop. For more information about Nadia's passion for art, and super-great skills teaching children, please visit www.msnadiaart.weebly.com or email Nadia directly at octopusundergroundart@gmail.com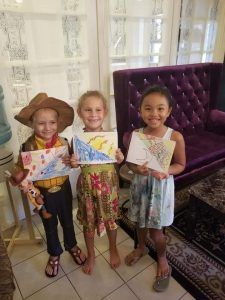 Notes from Nadia:
1. Classes are held outside. The awesome purple awning protects us from sun and rain, but if the weather is windy and rainy I will most likely cancel class.
2. Please consider that kids will be working alongside one another, so please come in good health for the wellness of the other participants.
3. As we will be sharing supplies, kids need to wash their hands before and after class (either using the bathroom in The Collective or hand sanitizer).
4. Class size is limited to six kids.
5. To go along with limited spots, please try to support my preparations by signing up by the Friday night before class.
6. It is art class — consider the clothing the kids choose to wear might get paint or glue or both on them :/
7. Kindly pay at the start of class using your choice of payment apps, cash, or credit card.