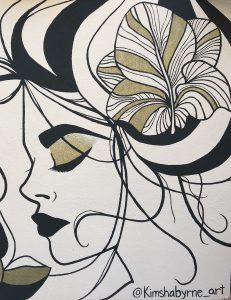 MURAL BY KIMSHA BYRNE
About Mural Artist, Kimsha Byrne (@kimshabyrne_art)
Kimsha Byrne is an artist who aspires to inspire, influence and connect with others through sharing art and the creative process.
"I love the inspiration that comes from all things wild in nature and the ever changing seasons, similar to the changes in our moods and our need to evolve. I enjoy capturing my perspective of the beautiful landscape through photography, showing interest in patterns, colors and textures. Nature provokes the intensity and passion I feel in connection within my own emotions and allows me to express this through my art"
While she obtained a Bachelors of Fine Arts degree at the Art Institute of Dallas, traveling as an Interior Designer for Resort Hotels and Private Residences; she continues to explore various forms of medium such as tattooing, acrylics, oils, watercolor, mixed media, colored pencils and markers, crafting and writing are also one of the many creative outlets she utilizes to exhibit her fascination with the natural world and human emotions.