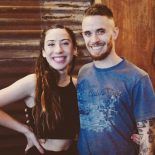 Murals By Fabio Mauro And Florencia Lasarte
Following their first appearance at The Collective in June-August 2019, Fabio Mauro and Flor Lasarte departed Hawaii with a strong sense that they would return again.
We talked with them about mural art in early 2020 and it was clear after suggesting it that they would do the second version of our exterior wall. Completed on February 26th, 2020 the mural adds a playful, colorful theme of fun, sun, and travel to our storefront.
After we took on an interior suite in December 2021, Fabio and Flor wanted to put some nature on the walls, resulting in the beautifully-executed floral, moth, and mushroom arrangement shown below. Sadly we didn't keep that space, but hopefully the next tenants enjoy it! Flor and Fabio have cemented their place in our shop as both artists and friends.
MAHALO FLOR AND FABIO!!